SYNOPSIS
Have you ever collected coupons from a cereal box? Maybe you were saving them up for a book or a toy.
Well, when Dan and his brother decide to collect 100 coupons so that they can have their very own lion, they assume the task will be easy enough.

How wrong can you be?!
WINNER OF SAINSBURY'S PICTURE BOOK AWARD 2014
Read what the judges said about the book here
Click to view There's a Lion in My Cornflakes book trailer
MR FLAKY'S CORN FLAKES
The first time I read Michelle Robinson's manuscript for 'There's a Lion in My Cornflakes' it had me laughing out loud and on first reading. What is it I loved about Michelle's text it was it brilliantly funny, full of ridiculous scenarios and it wasn't too descriptive so it left me lots of room to be creative with the illustrations and bring my half of the story to the book.

The idea of saving coupons from cereal packets reminded me of my childhood and me and my sister fighting over the free toy in the packet of Frosties, Cheerios, Corn Flakes etc. It was a race between us when mum would come home with the weekly shopping on a Friday evening and our grubby mitts would dive into the packets of cereal searching for the Free toy.
I had to think of a brand name for the Corn Flakes in the story and design the packaging for the imaginary cereal. So my thinking was somewhere along the lines of Corn Flakes, Corny, Flaky, Mr Flaky's Corn Flakes, I liked this double meaning and play on the word. So I firstly mocked up some ideas and started to think about the colour of the packet and how the promotion for the FREE LION may look.
Once I had the design for Mr Flaky I designed the packaging for the whole box, as it would be used LOTS of times in the book. In the pantry scene for instance there are 84 boxes visible, the text had to be in black for the co-editions.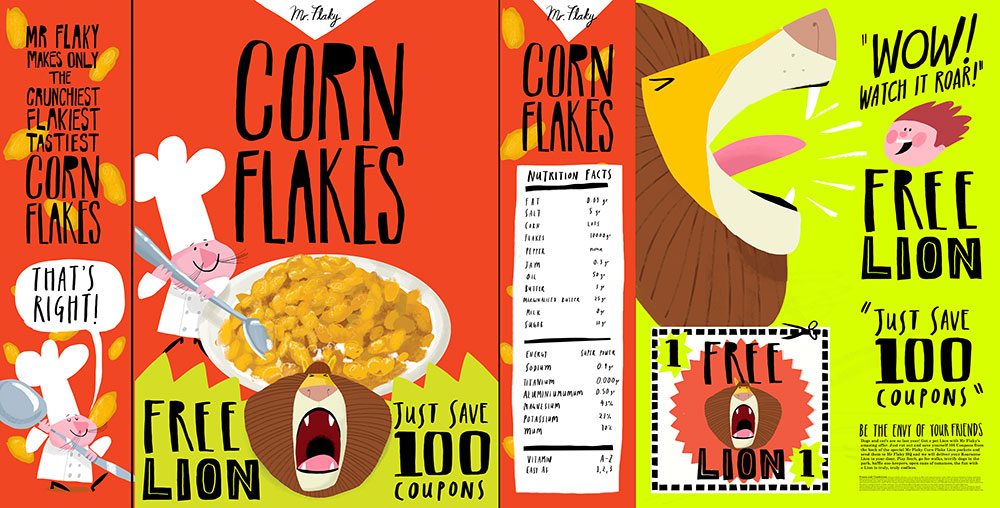 PURCHASE BOOK
THERE'S A LION IN MY CORNFLAKES is available in hardback, and paperback CLICK TO BUY HERE
IMPRINT DETAILS
ISBN: 9781408845608
Publication date: 03 Aug 2014
Page count: 32
Imprint: Bloomsbury Children's