SYNOPSIS
Quentin was a duck with a very quick quack.
'QUCK!' said Quentin. 'What's wrong with me?'
Quentin's quack has lost its A. Do any of the other animals have one to spare? Not likely! APES don't want to be PES. SNAKES don't want to be SNKES. PANDAS don't want to be PNDAS or even PANDS. Will Quentin be stuck with a very quick QUCK?!
WINNER OF THE PORTSMOUTH PICTURE BOOK AWARD 2017
"This picture book is based on a clever idea for helping emergent readers understand the connection between sounds and letters ... Jim Field's comical animal caricatures, bold and definite against brightly coloured backgrounds, make this learning journey a humorous pleasure." — The Sunday Times
CHARACTER DEVELOPMENT
Below are the multiple stages of character design I went through before we found the 'right' Quentin. A duck really works better in profile, drawn straight on you lose the charm of the beak and the shape of the body.

As always I start with a bunch of pencil sketches, these were the very first ones I made. I love giving characters hats, the type of hat instantly gives a bit of identity to the character, here a bowler hat perched on the top of his head makes him a bit comical I think.
I liked the overall body shape but he reminded me a bit of Mickey Pearce from 'Only Fools and Horses' in that hat. So using the same body shape and trying some other body colours and textures, I then swapped the hat for a boater style hat. Perfect for a duck, don't you think?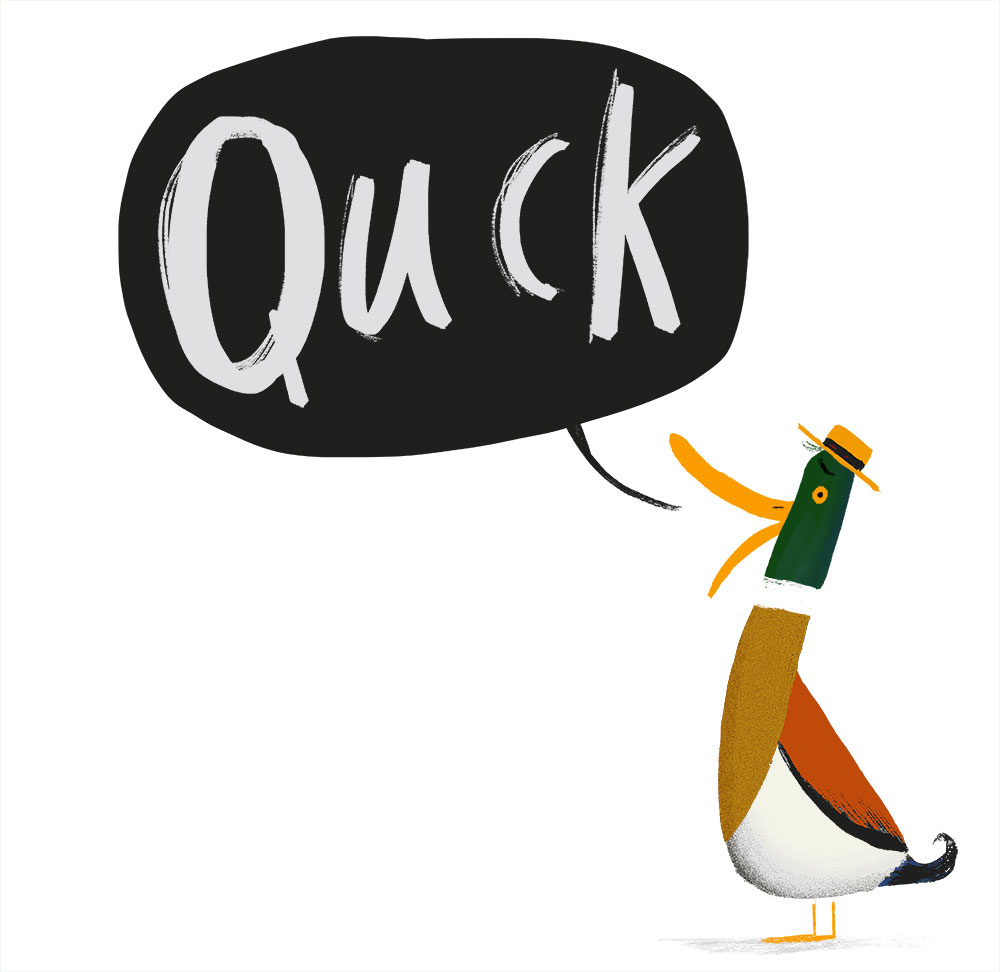 The new hat was working better but bouncing ideas back and fourth with my wonderful Art Director Jen Stephenson and Editor Emma Layfield, we thought he looked a little serious in the 'face' so I worked up a more comical Quentin, this time looking at the 'reader'...
'NEW HAT' this time a trucker Hat with the letter Q, I think I moved it into this direction because Emma and Jen suggested making him look younger, like a young teenager. Not a duckling.
This was working quite well but Emma and Jen felt we could make him younger still, so I scaled back the proportions and introduced some 'puppy eyes' to give a more empathetic look.
And reverting back to the boater hat to give a cuter, innocent look and a change of eye shape we all agreed this little duck was working well. I then worked up some further poses to see he looks and we introduced a little red bow tie too and Quentin was born...
Praise for Quick Quack Quentin
"An hilarious exploration of the alphabet" — Parents In Touch
"A quacking read aloud, a fun introduction to vowels and a brilliant way of showing children they need to be flexible in their approach to letters and sounds." — Red Reading Hub
"The children at school gave this book a rarely awarded 100 out of 10....An absolute delight of a book so please go and grab one for your bookshelves as quickly as you can!" — The Bookbag
"From the creators of the excellent 'Oi, Frog', this is a must-have book for class libraries to share with children who are learning to read and write. ...Jim Field's illustrations work brilliantly for this story - but be warned, you'll need to practice before attempting to read it aloud!" — Reading Zone
"Fun and colourful tale" — Daily Express
"A really fantastic book. A must buy for all phonics teachers!!" — Reading Zone
"This picture book is based on a clever idea for helping emergent readers understand the connection between sounds and letters ... Jim Field's comical animal caricatures, bold and definite against brightly coloured backgrounds, make this learning journey a humorous pleasure." — The Sunday Times
"Fans of Oi Frog! ... will not be disappointed ...Once again, clever wordplay is at the heart of the story" — Teach Early Years
"Another hit from an award-winning duo" — Nursery World
"The partnership of Kes Gray and Jim Field has produced two of the best picture books in recent years ... Perfect for children learning to read, write and spell" — Huffington Post
"Quick Quack Quentin is a cheery picture book that really put a huge smile on my face. I can imagine this book being very popular" — School Librarian
"Will have little ones rolling on the floor with laughter" — Liverpool Echo
"The most hilarious picture book of the season" — Bath Life
PURCHASE BOOK
QUICK QUACK QUENTIN is available in hardback and paperback CLICK TO BUY HERE
IMPRINT DETAILS
ISBN: 9781444919561
Publication date: 11 Feb 2016
Page count: 32
Imprint: Hodder Children's Books